Quick link
Click
here
for the scoop!
By car
Exit the A5 at Karlsruhe-Durlach and head to Durlach. Turn right at the first traffic-lights and turn left after passing the post-office. Head straight ahead and turn right into the Kanzlerstraße.
Ta-dah!
By train
Get in a train to Karlsruhe and look at the
detailed description
.
By plane
Since there's only very few airlines approaching the badenairpark, we'd suggest you to travel to the Frankfurt airport which has a fasttrain heading directly to Karlsruhe.
If you're flying with Ryanair from Sweden (or from somewhere else), you'll most likely be kicked out of the plane at Frankfurt-Hahn airport, which has a shuttlebus-service called
Hahn-Express
that's heading to Heidelberg every couple of hours.
Here, the take the "S3"-train to Karlsruhe/Durlach station. From there check the
detailed description
.
Detailed description from the Karlsruhe/Durlach station
Here's a link to Google-Maps
From the train station, it's roughly one kilometer to walk.
Turn right and walk down the street. Then turn left into the "Bleichstraße". After crossing the "Raiherwiesenstraße" take another turn to the left into the "Blotterstraße". After a short 80 meters, turn right into the "Christofstraße". Keep on walking (crossing two other streets) and take a right turn into the "Kanzlerstraße". That's where you need to be. Keep on walking until you arrive at the Partyplace :)
Location address
Durlacher Festhalle
Kanzlerstr. 13
76227 Karlsruhe-Durlach
The map
Here's a map of the groovy surroundings!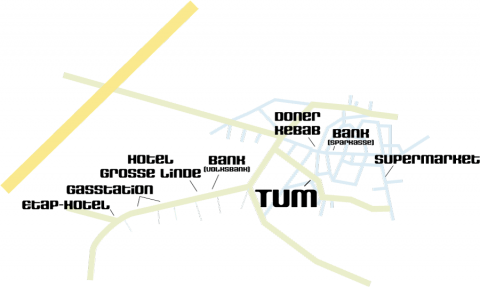 Sorry, there's no poll at the moment.
View past polls

Knowledge is power! Please subscribe to our newsletter.

...that we know what you did last Evoke?

We have! Point your
RSS-Reader here